About Me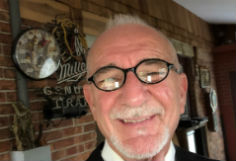 Doug relocated to the Greater Thumb Area of Michigan from Chicago, IL in 1986 when he came to Flint, Michigan as a field engineer to automate Buick City and Flint Truck and Bus plants. The project was a four year R&D program and during that period fell in love with the area and decided to stay.

Doug is the Owner and Manager of Greater Thumb Real-Estate located in Mayville, Michigan. He raised three sons in Millington, Michigan and is a Board member of Millington Chamber of Commerce, the Council member of TATC (Thumb Area Tourism Council) and a Board member Thumb Tourism Council www.thumbtourism.org

Buying or selling? Give him a call today!

Douglas Daniels, Assoc. Broker
Greater Thumb Real Estate, Inc.
M-24 (19 E Ohmer Road)
Mayville, MI 48744
Office: 989-843-7355
Fax: 989-843-6434
Direct/Cell: 810-287-2030